Dennis W. Song, RPh, CHC
The owner or Flower Mound Pharmacy & Herbal Alternatives, Dennis Song has been a community pharmacy practitioner for over 30 years. He is certified in Phytomedicinals and Alternative Medicine and is the only integrative pharmacy practitioner in the southern Denton county area. In 2003, he was awarded "Innovative Pharmacist of the Year" by Texas Pharmacy Association.
Dennis currently owns and operates a wellness-oriented pharmacy that integrates a traditional practice with natural medicines and alternative therapies, such as acupuncture, nutritional, chiropractic, homeopathy and massage therapy. He teaches monthly diabetes education classes collaboratively with a Certified Diabetes Educator in the pharmacy. Dennis is also a APhA Certified Community Pharmacist Immunizer and provides cholesterol testing, cardiovascular screening, smoking cessation programs and private nutritional and herbal consultations.
Dennis is on AbbVie's speaker's bureau, the University of Texas School of Pharmacy Dean's Advisory Committee, Amerigroup's Practitioner Advisory Committee, and DFW Regional Clinical Coordinator for TPA's Medicaid MTM Asthma Project. He previously served as the President of the Texas Pharmacy Association from 2010-2011 and is a 1982 graduate of The University of Texas School of Pharmacy.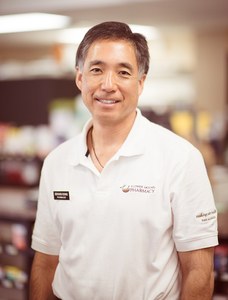 Dennis Song, RPh, CHC
Owner, Flower Mound Pharmacy